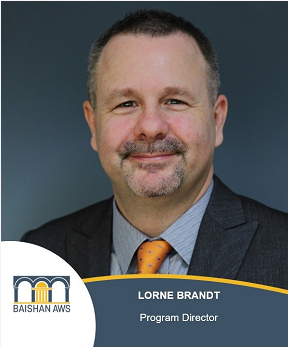 Lorne Brandt
Program Director
Lorne Brandt, Baishan AWS Program Director, began his education career in 2000 after graduating with a teaching certificate from Winthrop University. His first eight years were spent teaching Advanced Placement visual arts and coaching boys varsity soccer for a large public school near Charlotte, North Carolina. During these years he became chair of the Fine Arts department.
In 2009, Mr. Brandt became certified by the National Board for Professional Teaching Standards and then earned a master's degree in Curriculum & Instruction in 2012. Seeking international teaching opportunities, he joined an international school in Qingdao, China, to establish the International General Certificate of Secondary Education Arts program and implement the school's new information system.
Mr. Brandt returned to the U.S. in 2017 and married his wife, whom he met in Qingdao. He worked at a reputable school system in the fastest growing county in America. He returned to China in 2017 to establish a high school art program at an international school in Chengdu and was named Head of Faculty for the Expressive Arts and P.E., and chaired the Standards Committee.
Lorne and his wife are residents of the beloved city of Qingdao, China, where they are close to family and intend to stay. They both enjoy exercising, hiking, and traveling. Mr. Brandt is a practicing artist, producing oil paintings and pastel drawings that often illustrate traditional Chinese architecture. He is passionate about international education and continues to teach International Baccalaureate Diploma Program students.
Susan Bauska
Associate Head of Annie Wright Schools, Tacoma, USA
Susan joined Annie Wright Schools in 1990 as an English teacher and later College Counselor and Director of Upper School. After earning English and education degrees from the University of Puget Sound and Lewis and Clark College, Susan was a teacher and administrator at Oregon Episcopal School in Portland, OR. In addition to her leadership duties, Susan teaches an Upper School English class, enduring her passion for students, English and teaching.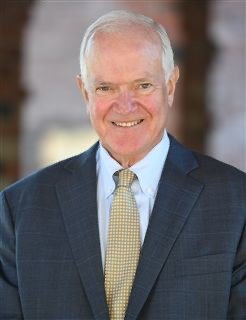 Rex Bates
Director of International Advancement
Annie Wright Schools, Tacoma, USA
Rex joined Annie Wright Schools in 2008, although his association with the school as a parent, trustee and Board Chair dates back almost 25 years. Rex's first career was in independent education as a history teacher, dorm parent and coach at Shattuck St. Mary's School. He followed that with almost thirty years in multiple leadership positions at State Farm Insurance Company.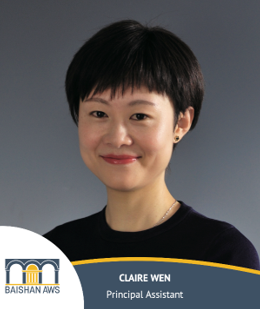 Claire Wen
Principal Assistant, Student Life, Inter-school coordinator
Claire Wen joined Qingdao Baishan School in the spring of 2019, right before Baishan AWS launched in Qingdao, China. As an American Certified Public Accountant, Claire was majored in accounting and obtained a Master Degree in University of Illinois at Chicago. In 2012, Claire moved to Atlanta, Georgia and worked as an auditor adapting at account management, internal auditing, financial reporting, budget forecasting and analysis in both private and public sectors.
Claire's education career began with Baishan AWS. As the program coordinator, she actively participated in student recruitment, marketing promotion, parent communication, student management, daily administration, etc. She is also responsible for the coordination between Baishan AWS and Baishan School.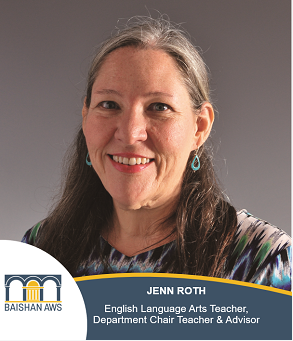 Jenn Roth
English Language Arts Teacher, Department Chair & Advisor
Jennifer Roth began her international teaching career over ten years ago as an EAL teacher and trainer in Southeast Asia. She has had the pleasure of teaching to every age and proficiency level, from pre-K to business English for adults. In the past five years, she has focused on teaching native English language and literature to high school students, gaining experience in the IBDP, Cambridge Key Stage, and US Secondary Common Core curricula. She has a passion for literature and is especially keen to help students develop their writing skills in advance of their admission to university.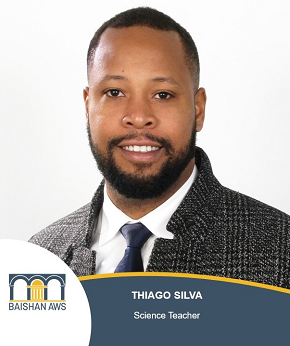 Thiago Silva
Science Teacher
Mr. Silva has been an international educator for five years. Before that he worked with outdoors environmental education, renewable resources research, reforestation projects, and technology. He is passionate about sports and has been coaching middle and high school soccer and Brazilian martial art called capoeira in after-school programs. Mr. Silva began his career in Brazil, teaching Biology to high school students in 2015, he moved to the United States to teach middle school Integrated Sciences at a Charlotte-Mecklenburg school in North Carolina, USA. After that, he joined the American School of Yaoundé in Cameroon to teach IB DP Biology and IB MYP Sciences. He enjoyed the IB curriculum so much that he attended professional development for IB MYP, IB DP and Internal assessment, and he is currently working on his M.Ed. in International Education.
Mr. Silva enriches the students' school life with a diversity of experiments, cultural exchange performances, music, field trips, tournaments, and career advice.
Elena Guedes (Starting August, 2021)
Mathematics Teacher
Ms. Elena Guedes is a Mathematics teacher with over 10 years of international experience, and an IB examiner for DP Mathematics. She also likes to assist students with SAT-prep and web development.
Ms. Guedes graduated with a Bachelor's degree in Computer Science and Mathematics from Saint Peter's University in Jersey City, New Jersey, and a Master's degree in Educational Leadership from Virginia Commonwealth University in Richmond, Virginia in the United States. A Bulgarian-Canadian, she holds a teaching certification from Ontario College of Teachers for Mathematics and Business Studies. In 2018 she also graduated from a Software Engineering boot-camp at the University of North Carolina.
Ms. Guedes taught at American schools locally, in the US, and also in American international schools in Brazil and Cameroon. She also taught in Peru and Canada. She has worked with the IB curriculum since 2010.
Ms. Guedes enjoys reading, traveling, learning new languages, and learning about different cultures. She believes that a person should always keep learning, and encourages her students to be curious, and excited about learning as well.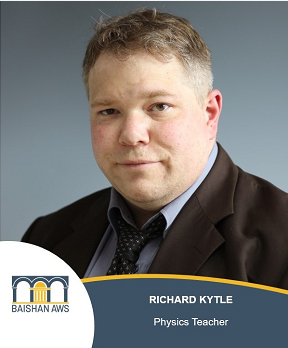 Richard Kytle
Physics Teacher
Richard is a professionally certified American teacher from the state of Georgia, U.S. He has a degree in Economics and is currently finishing his Master's degree in Technology and Instructional Design. He has been a teacher for a decade working with students of all ages. He has taught a variety of courses, including Geography, Literature, Chemistry, Biology, Physics, U.S. History, World History, and ESL of all levels. When he is not working he likes spending time with his wife, son, and daughter here in Qingdao. Richard enjoys going to the beach, camping, trying out new foods, as well as traveling to new places. He also has a passion for science fiction novels.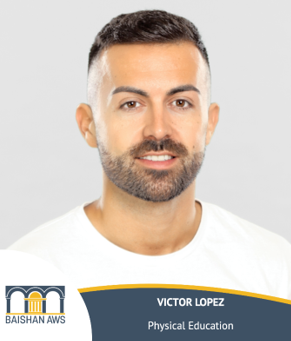 VICTOR LóPEZ
Physical Education Teacher
Originally from Spain, Victor Lopez finished his studies in Physical Education at the University of A Coruna. For the last five years, Victor lived in Latvia, where he started his career as an international teacher. He likes being involved with the Afterschool Activities and coaching sports. Victor has played football at a semi-professional level for many years and enjoys a healthy and active lifestyle.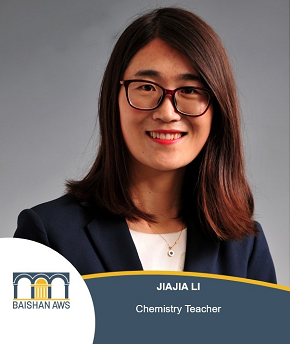 JiaJia Li
Chemistry Teacher
JiaJia's love for Chemistry kept her studying at university for 7 years. After earning a Bachelor degree in Applied Chemistry, she continued to achieve her Masters in Organic Chemistry.
Jiajia has been teaching Chemistry for eight years, including six years at international school and two at Chinese traditional school. She is experienced with IB DP Chemistry, AP Chemistry and Chinese Chemistry. In addition to teaching AP Chemistry for Baishan AWS, JiaJia also teaches IBDP Chemistry at Qingdao Amerasia International School.
She enjoys cooking, traveling, and reading in her spare time.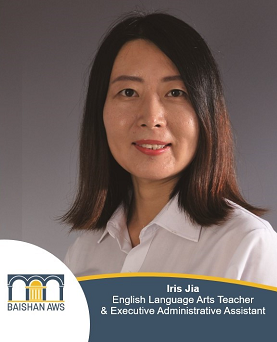 Iris Jia
English Language Teacher and Executive Administrative Assistant
Iris graduated from Shandong Normal University in 2006. She has since been engaged in English Language teaching and administrative work. Iris has taught many English courses, including English Literature, SAT, TOEFL, ESL. Iris has been teaching for more than 15 years and during her working, she has received many positive evaluations for her responsibility and proficiency. Besides, she is good at communicating with students in accordance of their aptitude.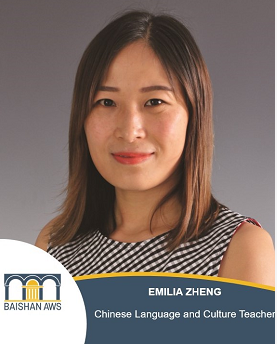 Emilia Zheng
Chinese Language and Culture Teacher
Emilia graduated from Beijing Language and Culture University with a Master of Teaching Chinese to Speakers of Other Languages (MTCSOL). Since 2008, Emilia has taught with different international schools in Beijing and Qingdao, with over 10 years teaching experience, including AP Chinese, IB Language and Junior high school Chinese curriculum. As the leader of Chinese group, Emilia excels at integrating multi-cultural and human history disciplines with management and curriculum development experience. She has earned a high school Chinese teacher qualification certificate as well as the Chinese international teacher qualification certificate. She also keeps current with training.
As an experienced Advisor, Emilia is also familiar with helping young adults with growing needs. She enjoys teaching and is happy to be part of the continuous improvement and educational transcendence.
In her spare time, Emilia enjoys reading, traveling and sports. The world is a kaleidoscope to her. She explores beautiful scenery and discovering interesting different customs and cultures, constantly seeking to be a global citizen with an international vision.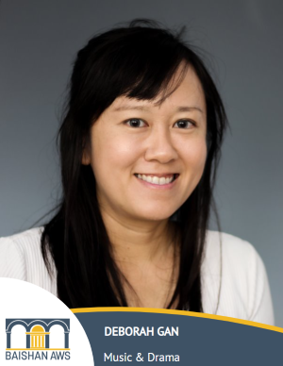 Deborah Gan
Music & Drama Teacher
Upon graduation, Miss Deborah worked in a music studio as a production assistant and taught music in a music academy for three years. She has produced albums for various budding artists, and composed music for a few TV series, in Malaysia.
Miss Deborah switched to full time teaching when she found her passion was in teaching music and not producing music. In 2013, she started teaching in international schools in Malaysia. In 2017, she travelled to Tunisia to teach in British International School of Tunis. She is also a singer songwriter in Malaysia. She has traveled to different parts of Malaysia sharing her songwriting stories. Some of her students have followed in her footsteps and have become well known singer songwriters in Malaysia.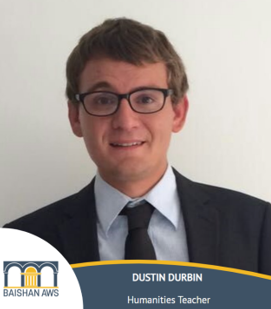 Dustin Durbin
Social Studies teacher
Dustin Durbin earned his Bachelor's of Arts in History from The Ohio State University and a teacher preparation program through the University of Western Florida. He has 9 years of teaching experience. Dustin worked for the Young People's Project founded by Robert Moses after being a volunteer coordinator for Habitat for Humanity in the US. He is almost finished with a Master's degree in Curriculum and Instruction from the University of Cincinnati. He is certified to teach Social Studies and Special Education through the state of Florid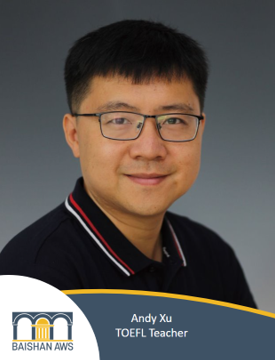 Andy Xu
TOEFL Teacher
Andy Xu earned his Master's degree from Renmin University of China, TEM8, and a Teaching Knowledge Test (TKT) from Cambridge University. Andy makes use of professional background by integrating big data into TOEFL reading and teaching, analyzing and utilizing massive data of students' problem-solving, and by transforming it into the core power for students' learning.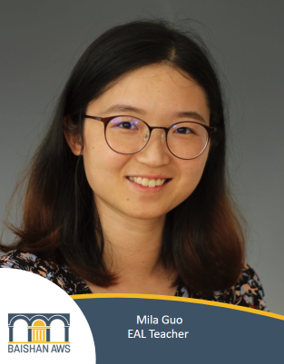 Mila Guo
EAL Teacher
Mila graduated from Shanghai University of International Business and Economics with a Master's degree. She has taught students from primary school to senior high school. Since she has been engaged in teaching, she has been trying to teach students in accordance of their aptitude and promote their interest in English. Mila hopes students can broaden their horizons through English as a language bridge, and view issues from different perspectives to better themselves.
Kristine Qiu
Curriculum Facilitator & Administrative Assistant
Kristine Qiu studied in France for six years pursuing her bachelors and master degree in Lyon 3 Jean Moulin University, majoring in Applied Linguistics and Business Management. Kristine's experiences include working in the French Embassy in China - Beijing in 2018 with responsibilities of checking student online Visa application documents and helping Chinese students pass the Visa interview. Additionally, Kristine has experience as a marketing assistant for a French E-commerce company in Paris during 2020.
Kristin has always been passionate about languages, specifically French and English. She loves dancing, hiking, and doing yoga in her spare time.